---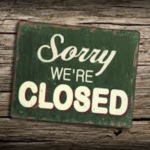 Greenhouse
Our Greenhouse special education program has moved to the JATC-South campus located in Riverton.  We no longer grow or sell plants here at South Valley School.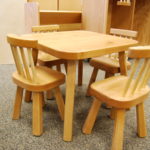 Woodshop
South Valley School's wood shop is a fully equipped facility where custom wood products are produced by students enrolled in the part-time program.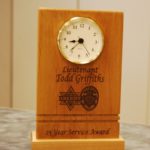 Framing/Engraving
Most items can be personalized with names, or any desired quote or logo. Use one of our ideas, bring your own, or work with our designers to create something unique.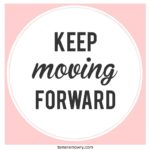 Transition
Get your teen or adult with special needs ready for transition.  Find information about resources available for special needs adults.
---
Announcements
Free Breakfast and Lunch
Breakfast and lunch will be FREE for the remainder of the 2020-21 School Year.  The USDA Free Meal Waiver has supplied grant funds that will pay for each students breakfast and lunch.  This is a fantastic opportunity and we gratefully acknowledge the USDA for this benefit.
April 2021
NO SCHOOL Monday, March 29th through Friday, April 2 for Spring Recess.
Monday, April 5 - Student of the Month Recognitions
Monday, April 26th through Friday, April 30 - Virtual Sheriff's Week!
Wednesday, April 28th - SBO Applications will be handed out for the 2021-2022 School year.  Get an application if you would like to run in the election for Student Body Officers.
Food Donation Connection and Harvest Programs
A big THANK YOU to Food Donation Connection who coordinates Harvest Programs for companies that donate food to non-profit organizations.  We have received donations from Pizza Hut, Starbucks, and Einstein Bagels, and anticipate others.  The food is sent home with students and is a big help for families.  We are very grateful to be a beneficiary of this program!  Please visit the Food Donation Connection website to see all about how much good they do.  Thank you, Food Donation Connection!
 JSD Podcast with Superintendent Godfrey at South Valley
Superintendent Godfrey came to our Engraving/Framing Department to have some pictures framed and learn about how students are trained and what products are produced.  His experience is highlighted in a podcast.  Check it out!
https://supercast.jordandistrict.org/077-superintendent-joins-south-valley-student-in-the-shop-framing-pictures-and-engraving-rolling-pins/
JEA and Horace Mann Crystal Apple Award
Our teacher, Daphne Castor was nominated by her peers and selected for the prestigious Crystal Apple Award.  JEA and Horace Mann, an educator Insurance and Financial Company, partnered together to give the award.  Daphne was chosen for advocating for the teaching profession, leading within the school and being an outstanding educator.  Congratulations, Daphne!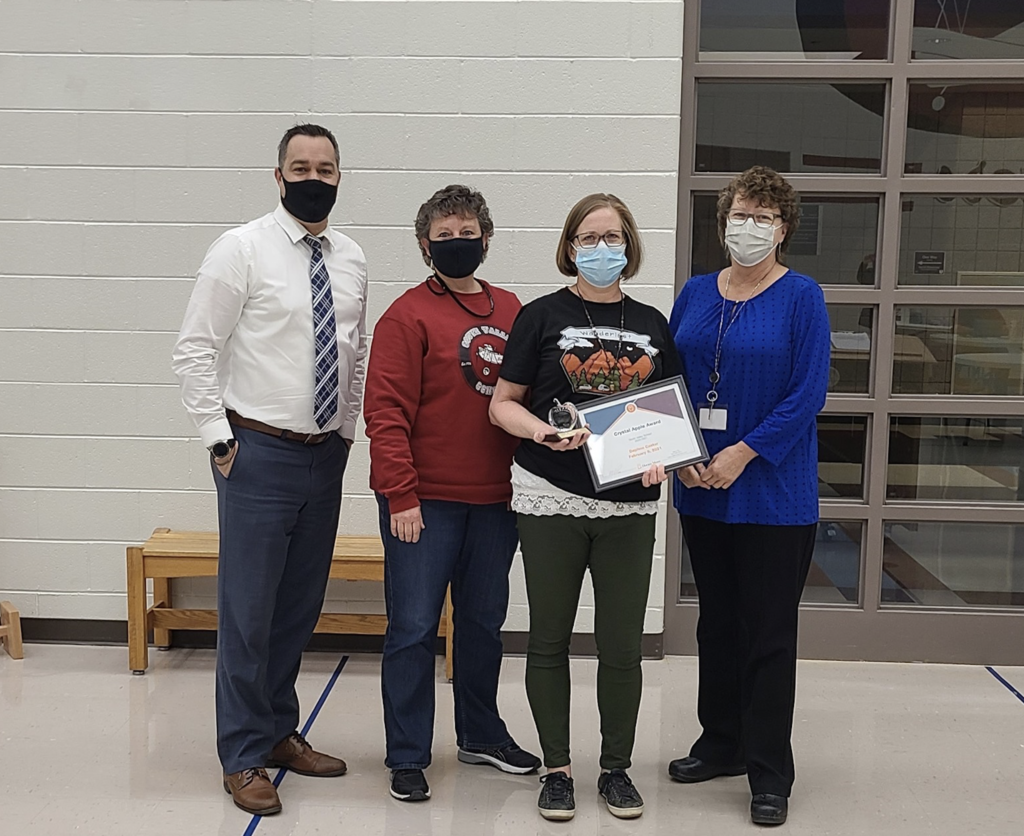 Reopening of the 2020/2021 School Year 
The Jordan School District Board of Education has approved the plan for reopening schools.  Click the link to view it.   JSD board reopening plan
To see South Valley's Processes and Procedures for school reopening please click the link.  SVS procedures and processes
If you have questions about virtual learning for the 2020-21 school year, or would like to discuss specific issues regarding your student, please email our Principal, Rita Bouillon at rita.bouillon@jordandistrict.org.
 Covid-19 and Face Covering Information
JSD has committed to keep parents and students informed on the number of active COVID-19 cases in the Jordan School District.  To view the JSD COVID-19 Dashboard with all of the current numbers, please see the Jordan District Moving Forward page at https://movingforward.jordandistrict.org/.
To better understand the Jordan COVID-19 Data Dashboard, we invite you to listen to the following episode of our Supercast podcast: https://supercast.jordandistrict.org/054-understanding-the-jordan-covid-19-data-dashboard/
All Jordan School District schools, including South Valley, will continue to follow the State public health order requiring masks to be work in all school and on school buses.  Local officials, including the JSD school board, do not have the legal authority to end the mask requirement in schools before June 15.  You can review the Utah State mask requirement for schools at the link below:
https://coronavirus-download.utah.gov/School/Masks_In_School.pdf
THANK YOU for your continued support as we work together to keep everyone safe!
To request a mask exemption, please fill out the Exemption Request.  You can read all of the latest information on the Covid-19 pandemic, access the face covering exemption form and see mask facts by clicking the link. Mask Exemption Request Form/Mask Facts
Salt Lake County Covid-19 Data Dashboard
The Salt Lake County Health Department has established a Data Dashboard where you can access updated school associated COVID-19 cases in Salt Lake County. You can find the Data Dashboard  at the following link: https://slco.org/health/COVID-19/data/
Work at South Valley

Click the link to see positions we currently have available. Available SVS Positions.
Join Smith's Grocery Store Inspiring Donations for South Valley School!
South Valley School will receive .5% of each eligible purchase you make when you link us to your Rewards Card.  We use this money, along with parent/guardian donations, for our community based activities.  Our organization number is: CT421.  Even if you have enrolled in the past, check to make sure South Valley is still receiving credit.  To go to Smith's website and sign up or check your enrollment is still up to date, click here to go to the smiths inspiring donations page.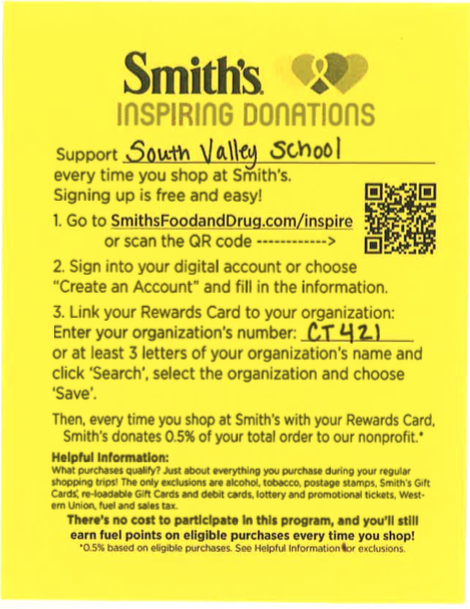 Utah Valley University Three-year Certificate Program
Wolverines Elevated is a three-year certificate program for young adults with intellectual disabilities.  See the flyer for more information.  This is a great opportunity!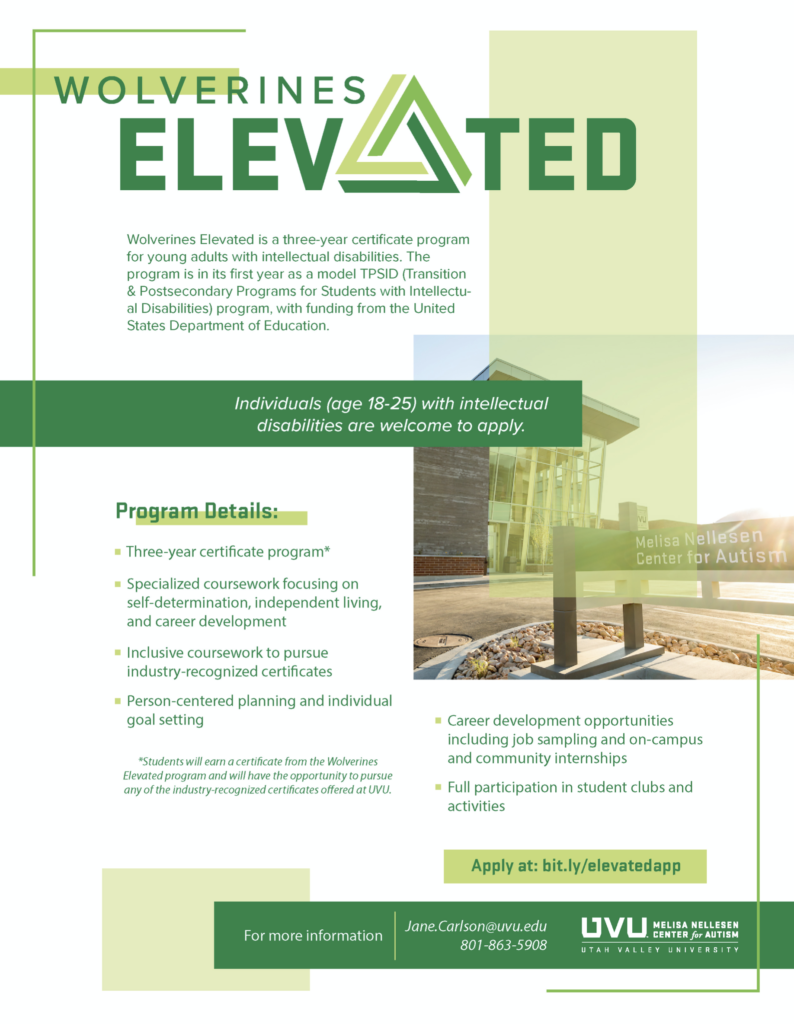 Self Advocacy Opportunities
The Utah Developmental Disabilities Council is looking for self-advocates that would be interested in being a part of their quarterly self-advocate spotlight.  These videos highlight self-advocates in Utah that are employed, who are volunteering, or someone that is just getting started on their advocacy journey.  If you are interested, email Eric Stoker, a former South Valley School student and Information Specialist for the Utah Developmental Disabilities Council, at estoker@utah.gov.  Because of social distancing, the interviews will be conducted using Google Meet and recorded.  Please click the link below to see an example of what an interview conducted by Eric Stoker will be like.
Utah Developmental Disabilities Council interview with Eric Stoker
Title IX Training Materials
The Jordan School District has provided training for all principals on Title IX.  Please click the link below to look over the materials that were discussed.
K-12 Title IX Training Oct 2020 Final
Utah Independent Living Center Opportunities